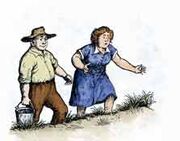 Homer Zuckerman
is husband of
Edith
and uncle to
Fern
and
Avery
. He bought
Wilbur
from the Arables when he was a month old. He didn't let Fern cuddle with Wilbur. When Wilbur became famous Zuckerman took him to the fair. Wilbur won a prize medal. As a matter of fact Wilbur spent the rest of his life on Zuckerman's farm
1973 Movie
Zuckerman first is seen telling Lurvy to feed Wilbur spoonful of molasses. Later he hears Lurvy yelling and goes outside seeing the spider web. Zuckerman goes to the fair and wins a medal. He keeps Wilbur alive.
2006 Movie
Zuckerman is seen luring Wilbur from escaping. Later after witnessing the miracles he goes to the fair and wins a medal. Zuckerman kept Wilbur alive.
Ad blocker interference detected!
Wikia is a free-to-use site that makes money from advertising. We have a modified experience for viewers using ad blockers

Wikia is not accessible if you've made further modifications. Remove the custom ad blocker rule(s) and the page will load as expected.