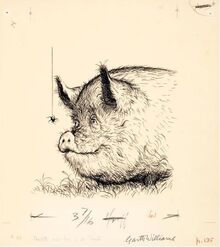 Uncle is Wilbur's rival at the fair and the main antagonist of Charlotte's Web despite his role being small. He is an overweight spring pig and laughs evilly at Charlotte. He later wins first prize which makes Fern feel heartbroken.
Ad blocker interference detected!
Wikia is a free-to-use site that makes money from advertising. We have a modified experience for viewers using ad blockers

Wikia is not accessible if you've made further modifications. Remove the custom ad blocker rule(s) and the page will load as expected.